Cincinnati Sink Refinishing
Sink refinishing is a great way to give your kitchen or bathroom an updated look without having to replace the entire fixture. Refinishing involves stripping the old finish from the sink and applying a new one. This process can be done by a professional, or you can do it yourself with a kit that you can purchase at most hardware stores. The advantage of refinishing your own sink is that you can save money on the project. However, it is important to note that sink refinishing is not a difficult task, but it does require some time and effort to achieve a high-quality finish. If you are unsure about your ability to complete the project, it is always best to hire a professional.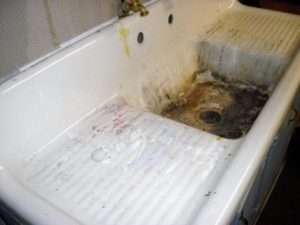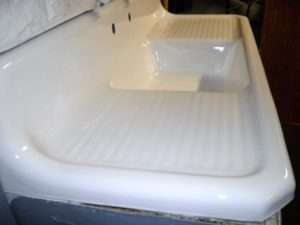 Our Sink Refinishing Process
First, we mask off the work area thoroughly.
Next, we remove or mask off the sink hardware.
After that, we set up our fume exhauster to control dust & odor.
Then we remove all caulk & silicone surrounding the sink.
The next step is to aggressively clean the entire sink surface.
After which we make any necessary repairs to the sink surface.
Next, we thoroughly sand the entire sink surface.
Then we generously apply the bonding agent to the surface.
After that, we spray 1-2 coats of primer to the sink surface.
Then we spray 2-3 topcoats of finish to the sink surface.
Once dry we remove all masking materials & haul away all trash.
We promise to leave the work area cleaner than we found it.
Most sinks can be refinished in 4 to 6 hours in 1 appointment.
You can use your like-new sink 2 to 4 hours after we leave.
Your sink will be covered by our 10 Year Refinishing Warranty.
Frequently Asked Questions:
Q: What if my sink has been refinished before?
A: Your sink can definitely be refinished again. Depending on the condition of your sink it may require additional sanding or prep work.
Q: What if I have a chip in my sink?
A: That is no problem! We can definitely repair any cracks, chips, or holes in your sink.
Q: What kind of sinks can you refinish?
A: We can refinish Bowl Sinks, Cast Iron Sinks, Ceramic Sinks, Cultured Marble Sinks, Farm Sinks, Kitchen Sinks, Pedestal Sinks, Porcelain Sinks, Vanity Tops, etc.
Thank you for reading about Sink Refinishing. Check us out on Facebook to see more sink refinishing photos and reviews.
All work performed by Bath Refinishing Solutions LLC is subject to the terms and conditions found in our service agreement.