Pedestal Sink Refinishing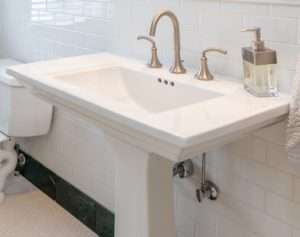 Pedestal Sink Refinishing Process
First, we mask off the work area thoroughly.
Next, we remove or mask off the sink hardware.
After that, we set up our fume exhauster to control dust & odor.
Then we remove all caulk & silicone surrounding the sink.
The next step is to aggressively clean the entire sink surface.
After which we make any necessary repairs to the sink surface.
Next, we thoroughly sand the entire sink surface.
Then we generously apply the bonding agent to the surface.
After that, we spray 1-2 coats of primer to the sink surface.
Then we spray 2-3 topcoats of finish to the sink surface.
Once dry we remove all masking materials & haul away all trash.
We promise to leave the work area cleaner than we found it.
Most pedestal sinks can be refinished in 4 to 6 hours in 1 appointment.
You can use your like-new sink 4 hours after we leave.
Your sink will be covered by our 10 Year Refinishing Warranty.
Frequently Asked Questions:
Q: What if my sink has been refinished before?
A: Your sink can definitely be refinished again. Depending on the condition of your sink it may require additional sanding or prep work.
Q: What if I have a chip in my sink?
A: We can definitely repair any cracks, chips, rust, or holes in your sink.
Q: Can you refinish my pedestal sink at your workshop?
A: We have found the best solution to be refinishing the item at your location. As this leads to less issues when moving or installing the sink.
Q: How far will you travel to refinish a pedestal sink?
A: We refinish Pedestal Sinks near Cincinnati, OH. We serve the entire Cincinnati metro area including customers in OH, KY, & IN. Any customer that lives within 100 miles of Cincinnati is in our normal service area at standard rates. Any customer outside of that service area can still be serviced for an additional fee contact the office for details.
Thank you for reading about Pedestal Sink Refinishing. Check us out on Facebook to see more sink refinishing photos and reviews.