Tile Refinishing near Cincinnati
Tile refinishing is a great way to give your tile a fresh, new look. It can also help to protect your tile from wear and tear. Tile refinishing services can be performed on both ceramic and porcelain tile. The process involves cleaning and sanding your tile and then applying a new, protective coating. This new coating will help to keep your tile looking shiny and new for years to come. Tile refinishing is an affordable alternative to replacing your tile, and it can be performed quickly and easily. If you're interested in refreshing the look of your tile, contact Bath Refinishing Solutions today.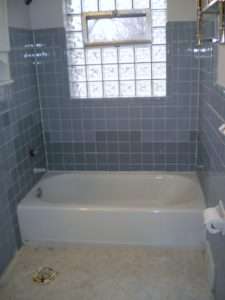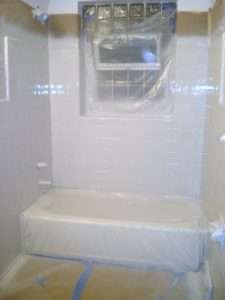 Our Tile Refinishing Process
First, we mask off the work area thoroughly.
Next, we remove or mask off the tile hardware.
After that, we set up our fume exhauster to control dust & odor.
Then we remove all caulk & silicone surrounding the tile.
The next step is to aggressively clean the entire tile surface.
After which we make any necessary repairs to the tile and grout.
Next, we thoroughly sand all of the tile and grout.
Then we generously apply the bonding agent to the tile and grout.
After that, we spray 1-2 coats of primer on the tile and grout.
Then we spray 2-3 topcoats of finish on the tile and grout.
Once dry we remove all masking materials & haul away all trash.
We promise to leave the work area cleaner than we found it.
Most tile projects can be refinished in 1-2 days.
You can use your like-new tile 4 hours after we leave.
Your tile will be covered by our 10 Year Refinishing Warranty.
Frequently Asked Questions:
Q: What color options are there?
A: We have a dozen colors that we use regularly. On top of that we can match any solid color in a Sherwin Williams paint deck in our water resistant coatings. This gives you over 5,000 different color options for your tile project.
Q: What happens to the grout with tile refinishing?
A: You will still have grout lines after your tile is refinished. Obviously the grout and the tile will both be covered in our coating. The coating we use is water resistant so there won't be anymore mold or mildew build up on the grout lines. If there is any loose or missing grout we will repair that before refinishing the tile.
Q: What kinds of tile can you refinish?
A: We can refinish ceramic tile, glass tile, mosaic tile, porcelain tile, etc.
Q: What kinds of tile surfaces can you refinish?
A: We can refinish bathroom tile surrounds, tile backsplashes in kitchens, tile countertops, etc.
Q: What if my tile has been previously refinished?
A: We can refinish it again but it may require more prep work contact us for pricing and details.
Q: What if my tile needs to be repaired?
A: We can repair chips, cracks, rust, loose grout, missing grout, missing tiles, mildew, hard water stains, & different colors of tile. Contact us for pricing and details.
Q: What is your tile refinishing service area?
A: We refinish tile in the entire Cincinnati, OH metro area. We serve most addresses within 80 miles of our office in Cincinnati. We serve residents of OH, KY, & IN. Please contact us for more information.
Thank you for visiting our website. Visit our Facebook Page to view more photos, reviews, & content.
All work performed by Bath Refinishing Solutions LLC is subject to the terms and conditions found in our service agreement.